NEWS & EVENTS
Free Classical Concert on April 25
Apr 10, 2009 07:11 PM EDT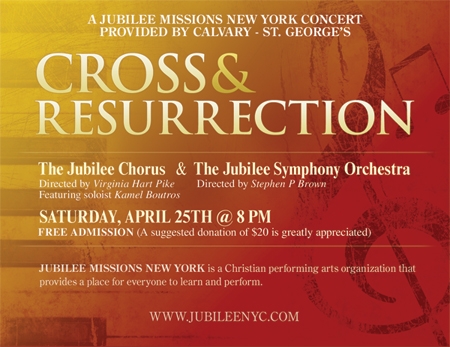 Jubilee Chorus (directed by Virginia Hart Pike) and Jubilee Symphony Orchestra (directed by Stephen P Brown) will be performing pieces inspired by the Cross and Resurrection on Saturday April 25th.

Held in Manhattan at the historic Calvary Church (21st Street and Park Ave), the concert will be a beautiful representation of the sorrow and sacrifice of the cross, and the victory and rejoicing of Christ's resurrection.

The chorus and orchestra have performed together at the same venue on July 10th of last year. This April 25th is expected to be a larger performance that no one should miss. Everyone is welcome to come and attend this free admission concert.
View List